Food Safety & Quality
The top priority at McLane Classic Foods is manufacturing food-safe, high quality products for our customers. We produce in accordance with government regulations and strive to exceed customer specifications.  We focus on all aspects of Food Safety including Allergen Control, Foreign Material Detection, Food Security and Vendor Approval programs. These are continuously monitored with monthly audits, in-line equipment, employee training and document & policy review.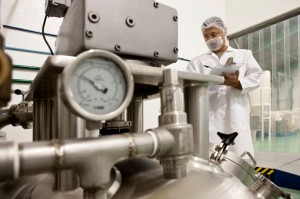 The Food Safety Team comes from a diverse background in the food industry with over 40 years of experience. In-plant testing is performed on each batch every day, including analytical, organoleptic and sensory tests. All products must meet the minimum HACCP requirements before being released for shipment. Microbiological testing is conducted at an independent third-party lab. We maintain a rigid environmental program incorporating inspection, swabbing, and allergen residue validation. We also have an in-depth partnership with our sanitation company, with results consistently above the industry average.
The longevity and knowledge of our employees, combined with training, encourages pride and ownership into each facet of our business. With this attitude and the support of a strong management team, our group has been able to increase our commitment to Food Safety and Quality. This is reflected in customer audit scores and current BRC certification status.